Improving production efficiency is undoubtedly a goal of any company working in the electronics industry. However, the current unpredictable economic environment creates challenges that businesses are struggling to navigate on their own.
As a result, they need to work with reliable partners to ensure production efficiency. Xometry, the world's largest on-demand manufacturing marketplace, is one of them. You can complete projects up to 60% quicker thanks to its AI-based Instant Quoting Engine, massive partner network, and huge capacities. In addition to the 13 manufacturing processes and 70 materials available for producing on-demand parts, there is also an experienced team of engineers, purchasers, and project managers behind your project.
Facing the challenges of the electronics industry
Scattered manufacturing capacity
One of the most challenging obstacles in the electronics industry is the sparse manufacturing capacity. Businesses often face difficulties finding the right provider with free capacity. They also often need to use multiple suppliers depending on the project and the technology it requires.
Xometry has found a way to source parts more efficiently: one single platform with every technology for CNC machining, sheet metal fabrication, 3D printing, and injection moulding, along with a large selection of materials (metals and plastics) to help you save time during your project.
Hard to get a quote quickly
In a world driven by urgency, waiting hours, days or even weeks to get a quote for your project—even with a ready CAD file—is unacceptable. Xometry's Instant Quoting Engine provides an instant cost estimate regardless of the part's complexity, the technology used, and the desired quantity. In just a few clicks, this revolutionary system calculates the production cost of the parts based on a 3D design and the manufacturing settings selected on the platform.
Special finishing options required
Not all providers offer highly specific finishing options, meaning you might have to use a different supplier than the one who produced the parts to do this for you. To save you time and enhance the production process, Xometry offers a large selection of post-processing options (anodising, polishing, blasting, powder coating, tempering, etc.) as well as custom alternatives for all your tailor-made parts.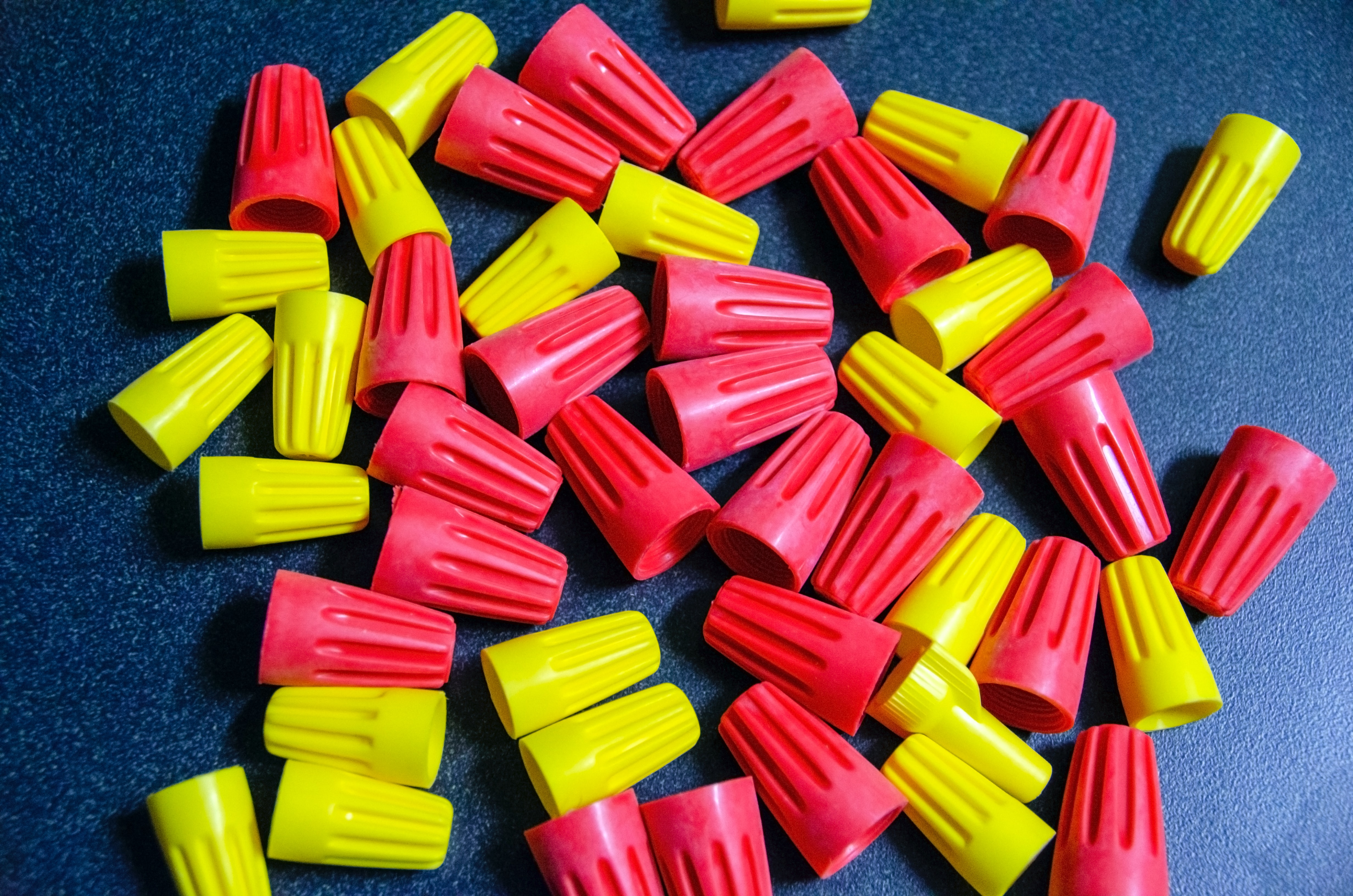 Coloured Wire Connectors
Rising material costs
Not only are electronic chips becoming increasingly scarce, but materials are also becoming more and more expensive. These factors have direct financial implications for businesses in a time where they are looking for the most economical solution more than ever before. Thanks to a network of more than 5,000 partners worldwide of which 2,000 are located in Europe alone, Xometry can always offer competitive prices by looking for the most affordable option to ensure your project is feasible at the lowest possible price.
Prototyping costs are unpredictable
Creating a proper prototype before starting production takes time and money, and getting a viable cost evaluation of the part you want to produce can often be difficult. To address this common problem, Xometry's Instant Quoting Engine lets you compare technologies, materials, and finishing options for your prototype. In just a few clicks, you can find the best technical alternatives for your project and see the price difference based on the settings you selected.
Xometry: a reliable partner for the electronics industry
Xometry has strong expertise in manufacturing parts for electronic applications and meets all possible technological and material requirements. Over the years, the company has already produced high-quality, detailed cases for devices that are compatible with electronic components, drone parts, sensor parts, switches, connectors, and chargers.
In addition, Xometry provides technical tips and online resources to guide you through the manufacturing process, such as technology overviews, design tips, material guides, and project cost reduction guidelines.
Xometry also offers framework agreements for specific prices, batches, and quantities to secure the supply of parts for the entire year.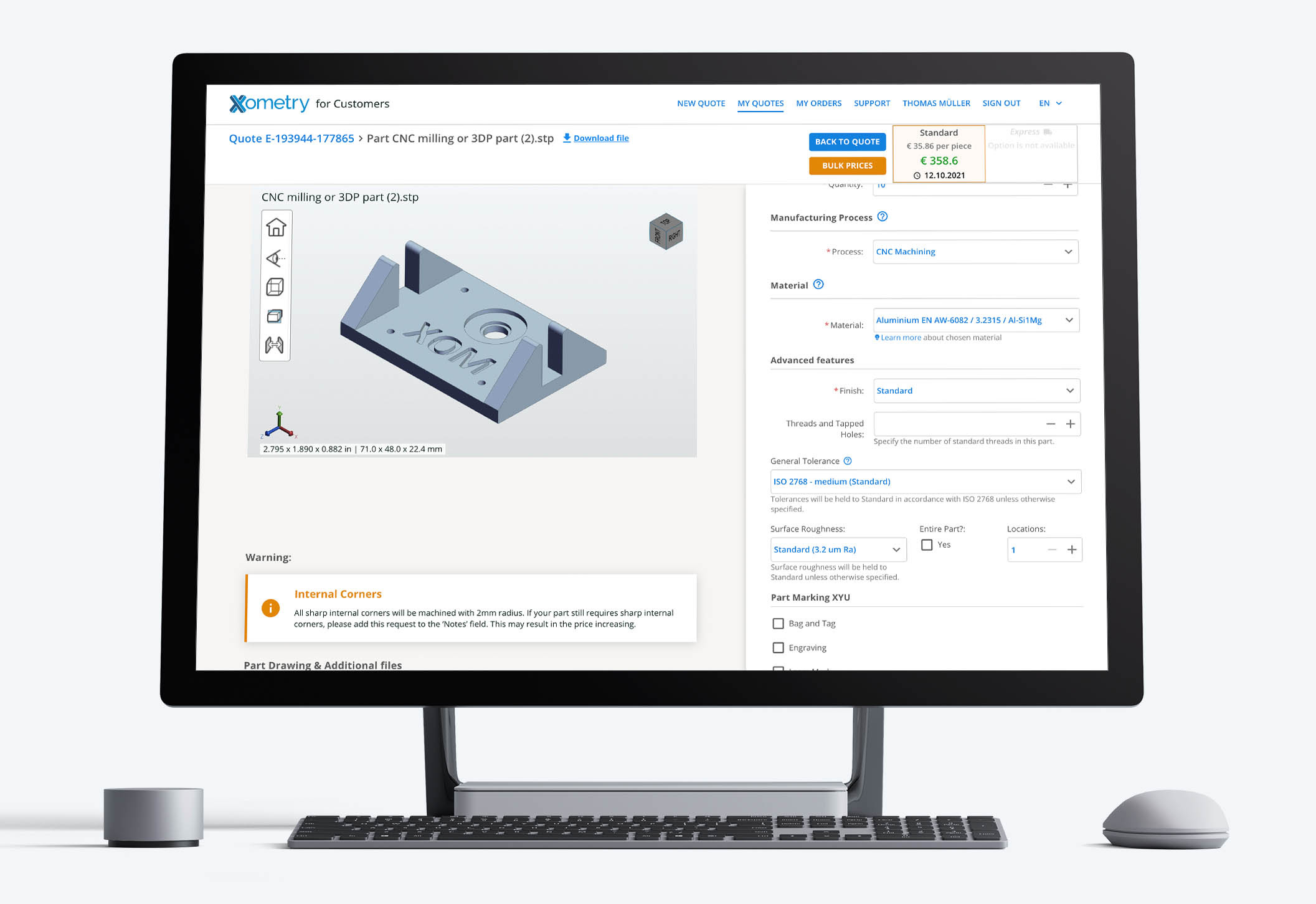 Screenshot of Xometry's Instant Quoting Engine
Order parts the Xometry way
Try out Xometry's Instant Quoting Engine in just three steps:
Step 1 – Upload your CAD files to the secure Instant Quote platform (my.xometry.eu/quote). You can even import multiple designs for different parts at the same time to create a single quote. In a few seconds, a detailed cost estimate is displayed on the screen.
Step 2 – First, select the manufacturing process you require. You can then choose from over 70 materials, both metals (aluminium, steel, stainless steel, titanium, copper) and plastics (Nylon, ABS, Ultem, PP, PC, Peek, etc.), and from a wide range of finishes and certifications.
Step 3 – Once you have selected the required options, you can confirm the order. Your design will be reviewed by a team of engineers and your order will be produced by the most suitable supplier.
Xometry offers very short production lead times, from up to 3 days for 3D printing to 2 weeks for injection moulding projects. The Xometry team is available at every stage of the manufacturing process from quotation to delivery of your parts, and you will receive notifications at each new phase of the project.
Writer: Manon Bouriaud
Job role: Content Marketing & SEO Manager
Company contact information: Xometry Europe GmbH – Ada-Lovelace-Str. 9, 85521 Ottobrunn, GERMANY
By email: info@xometry.eu
By phone: +49 893 803 4818
Website: https://xometry.eu/en/